Find a group, get connected.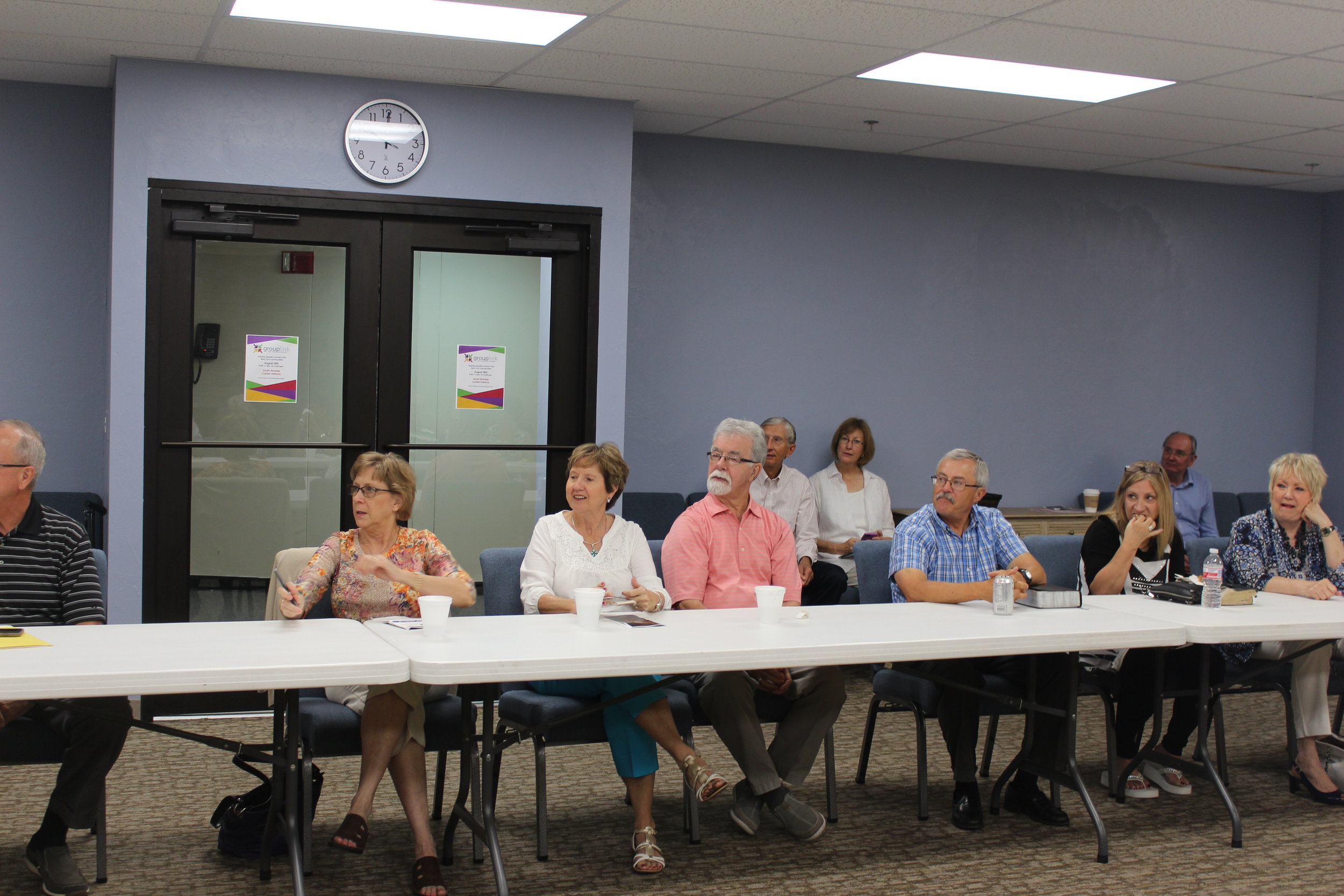 9:55 - 10:50 AM
We have a range of groups that meet for the Sunday School hour each week that vary by age, life-stage, and class topic. Look through our list and find a group to get connected.
Revelation Revealed
Sunday Mornings starting February 3rd
Pastor Adrian Cole will be leading a class through the book of Revelation and a study of the End Times on Sunday mornings at 10 AM, starting February 3rd in Room 108. Unpacking mysterious language, debunking cultural myths, and studying the historical context of this book of the Bible will help everyone see God, His grace, and His purpose more clearly. Anyone can attend, even if they didn't last semester.
young adult class
20s & 30s | Room 206
This group looks at how millennials can live as disciples and grow in faith in a changing world. Lessons are discussion-based and Scripture-focused. Kate Hagler, 940-781-4472.
THE UPPER ROOM CLASS
young families | Room 102
This group of young families loves to create relationships with one another and with Christ while impacting New Covenant. The Upper Room class gathers together to love the children of God by loving God and carrying out his commands. Led by Sean and Amanda Fairbairn. Sean sean.fairbairn@gmail.com; Amanda amanda.fairbairn22@gmail.com
FAMILY TIES
parents of school-age children Room 208
A group of parents who are in the throes of raising kids. Their varied studies cover relationships and explore biblical themes. The group meets outside of class several times a year for fellowship as well as community service activities. Trait, traitthompson@hotmail.com.
glad timers
parents of school-age children | Room 204
Joe and Kaley Broome facilitate this group of parents as they enjoy times of study and fellowship together. Joe, jbroome99@cox.net.
LIFE MATTERS
parents of school-&-college-aged kids Room 108
Ken and Traci Grant lead this group of parents (couples and singles) as tehy delve into studies that equip them for life. They love getting together outside of class. sooners1990@cox.net.
Next Steps
all ages | Room 201
This class is led by multiple people in the group, facilitating discussion as they journey through Scripture and life together. All are welcome. No Bible experience needed – come as you are! Brian LaPat, brianlapat@cox.net.
ROAD WARRIORS
parents of young adults | Room 105
This group engages in great discussion and does a wide variety of biblical and topical studies. They love pulling in relevant topics into their study of the Bible and our heritage. Tom or Suzan, 341-6961.
GROWING IN GRACE
middle-aged plus | Room 104
David Henson facilitates this group as they currently walk through the book of Acts, discovering that just as we struggle at times, the early church had struggles too. They enjoy gathering outside of class for service and fellowship.Dhenson16@cox.net.
FAITH BUILDERS
middle-aged to senior adults | Room 107
Led by Denver Woolsey and Dee Dee Chumley, this class engages in a variety of biblical studies and enjoys lively discussions. Dee Dee, ddchumley@yahoo.com.
FELLOWSHIP
mixed seniors | Room 101
John Barnett facilitates this group as they study God's Word together. They're just starting a study on the Book of Mark. John, jmbarnett@cox.net.
AMONG FRIENDS
women | Room 106
Among Friends is a multi-generational group of women who do a variety of studies in various formats. These ladies enjoy fellowship and study with one another. Anita, anitawright80@yahoo.com.
ACTS OF THE APOSTLES
any age | Library
Uncover the meaning of Revelation with Matthew Hewes and Steve Schwegal as they guide a discussion of one of the Bible's most exciting books. What is the meaning of 666? Who is the Beast from the Sea? Did I read the Left Behind series for nothing? Come for answers and more! Bob Nance, nancejnb@yahoo.com.
EXPLORERS
any age | Room 207
They study various subjects, giving particular attention to the biblical witness. The Explorers are an energetic, interactive class who welcomes all ages and values diversity. Fellowship is an important part of this class. Various leaders take turns leading the discussions. Dick House, 317-8703.
JEREMIAH 29:13 SEEKERS
all ages | Fireside Room
Retired pastor Darlene Johnson, Derrick Morton, and Frank Andrews lead this growing, interactive, and vibrant class. They are multi-generational Seekers who are hungry for what the Scriptures have to say to them, collectively and individually. Nancy, nancy@oba.com.
Contact Adult Discipleship
Shelley Johnson | Director of Adult Discipleship
(405) 562-3227